Important Update:
The Cultural Data Profile changes are estimated to go into effect in late fall 2019. 
This blog was originally posted on January 7, 2019, and has been edited to reflect updated information regarding our release date. 
The Cultural Data Profile (CDP) is our flagship service. It has become a resource for data collection, analysis, reporting, and research for over 16,000 organizations nationwide. Our survey, which collects financial and programmatic data from nonprofit arts, culture, and humanities organizations will be updated in fall 2019 to comply with a new set of financial reporting standards issued by the Financial Accounting Standards Board (FASB). We initially estimated that our updates would be available in summer 2019. However, due to the complexity of the changes and our team's dedication to ensuring that everything works properly and cohesively, we have extended that date to late this fall. 
These changes will ensure a smooth reporting process for audited organizations.
FASB is one of the governing bodies that establishes financial accounting and reporting standards for public and private companies and not-for-profit organizations that follow Generally Accepted Accounting Principles (GAAP). In short, FASB develops the rules governing audits for nonprofit organizations.
Initially announced in Aug 2016, the new set of standards on not-for-profit financial reporting was developed in response to concerns regarding the complexities and flaws of the current model that has been in use since 1993.
Here's what you need to know. 
The full scope of the FASB updates can be found in this outline on the FASB website. All of these updates are in effect for fiscal years beginning on or after Dec 15, 2018.
The most notable update that will directly affect your CDP Survey is the reclassification of revenue and net assets from three categories to two.
Previously, standards required not-for-profit organizations to classify revenue and net assets as one of unrestricted, temporarily restricted, or permanently restricted. The new guidance will simplify your financial reporting by requiring only two classifications:  net assets with donor restrictions – or – net assets without donor restrictions.
To ensure that you will still be able to complete the CDP Survey according to your audit, we will launch an updated version that aligns with the new FASB standards.
Our updates will only affect the Revenue and Balance Sheet portions of the survey.  In both of these sections, the three-column presentation of Unrestricted, Temporarily Restricted and Permanently Restricted becomes two columns – Unrestricted and Restricted. 
Preview of the 2019 version: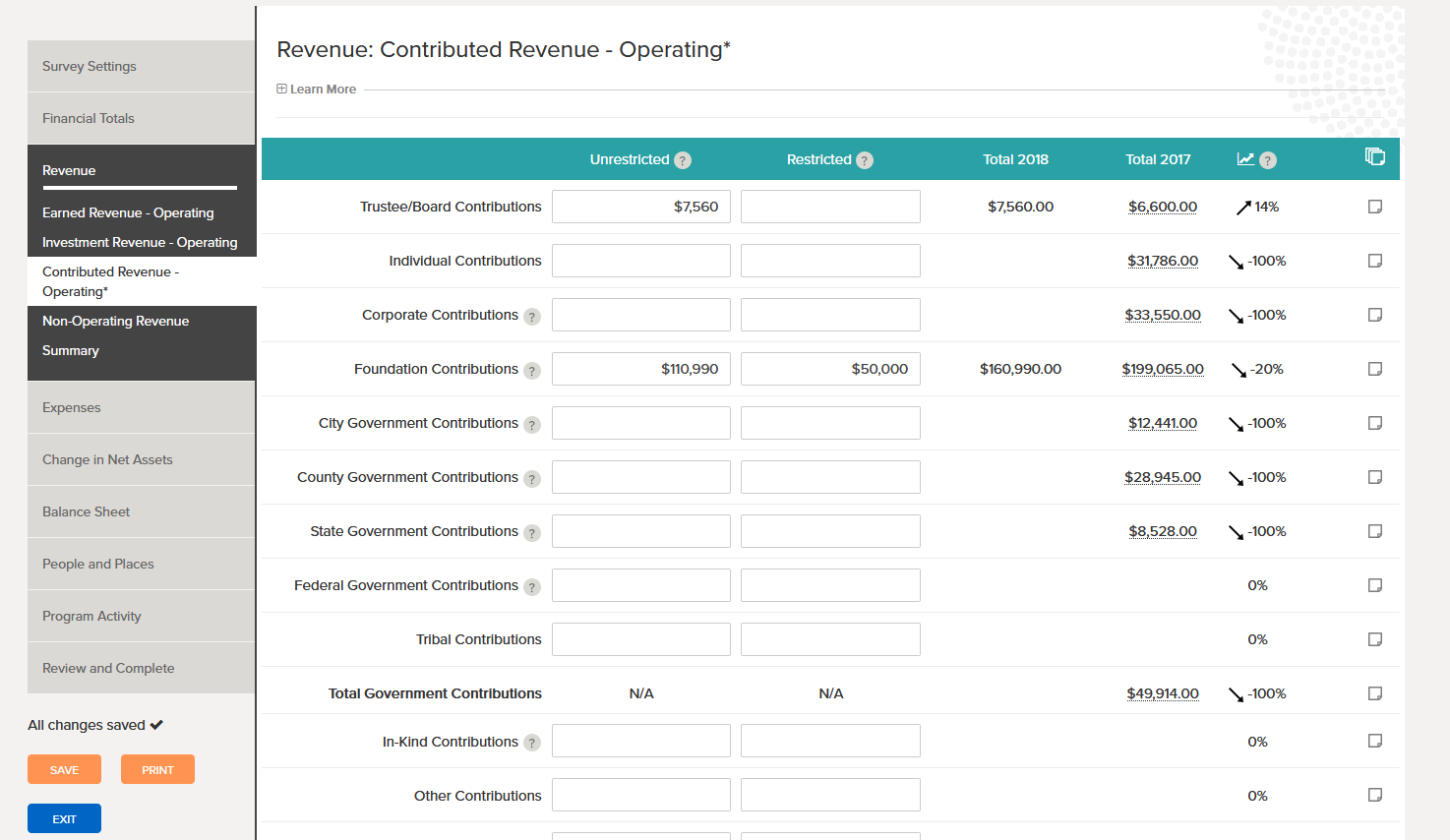 Need help? Email our support center.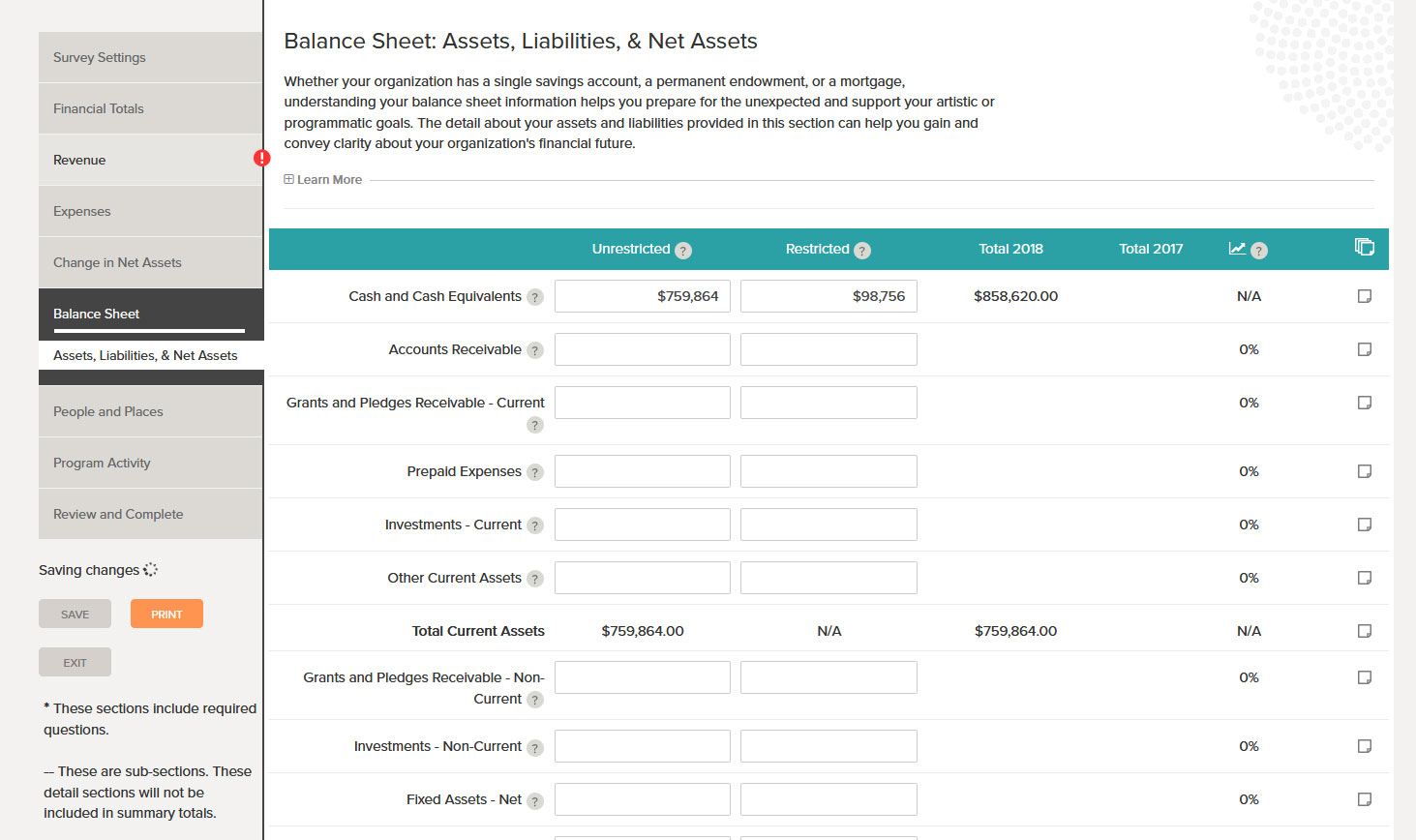 These changes will be launched with efforts to minimize disruptions to your grant reporting.
Because these changes affect so many lines in our survey, we expect to experience some planned system outages while we update the survey. We are proactively working with our participating grantmakers to ensure that our launch date will have the least impact on upcoming grant deadlines.
We greatly appreciate your patience while we update our system according to the new guidance. We will continue to announce updates regarding the timeline as things develop via email, social media, and the CDP platform. Additionally, we will provide materials in conjunction with the launch that will outline these changes and how they impact your experience with CDP as a grantmaker or as an arts and cultural organization.
Are you a participating grantmaker and have questions or concerns?
Please contact Liz Quinn at lquinn@smu.edu for assistance.