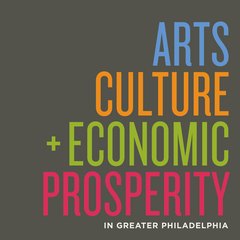 Philadelphia's arts and cultural sector is "outperforming the nation as a whole," contributing $3.3 billion to the local economy and supporting 44,000 full-time equivalent jobs, according to a new report released by the Greater Philadelphia Cultural Alliance using CDP data. The report, Arts, Culture and Economic Prosperity in Greater Philadelphia, also demonstrated that the Philadelphia region returns $1 billion in household income to Philadelphia residents as well as $169 million in tax revenues to state and local governments.
"In many places, culture is viewed as an amenity," said Cultural Alliance President Tom Kaiden in a statement. "Here in Philadelphia, it's interwoven into the fabric of everything we do. Arts and culture is a vital regional asset that supports thousands of jobs, benefits business in every industry and helps grow our economy."
Read the full report here.